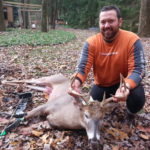 Pa. State Game Lands Buck hits the Ground.
Congratulations to friend of Bow Creek Outdoors, Nate Stroik on his beautiful public land whitetail. He made a great 20 yard shot and the buck fell in sight just 70 yards away. It's Nate's first buck with a bow.
Trackback from your site.